Size Guide
To take your measurements:
Head: Wrap a measuring tape around your head, above eyebrows. Make sure it is parallel when your head is straight.
Bust: Wrap a measuring tape around your back and bring forward to the fullest part of your bust. Often this will run the tape right across your nipples. With your head raised, tighten the tape and breathe normally.
Waist: Wrap a measuring tape around your narrowest part of your waist, above your belly button. Raise your head, tighten the tape and breathe normally.
Hips: Wrap a measuring tape around the widest part of your hips.
Legs: Measure the vertical length from your hipbone to ankle, just above your ankle bone.
Bottom: Measure the vertical length from waist to ankle.
Under-bust: Wrap a measuring tape around your chest, under your bust
Length: Vertical length of the piece (Tops or Bottom)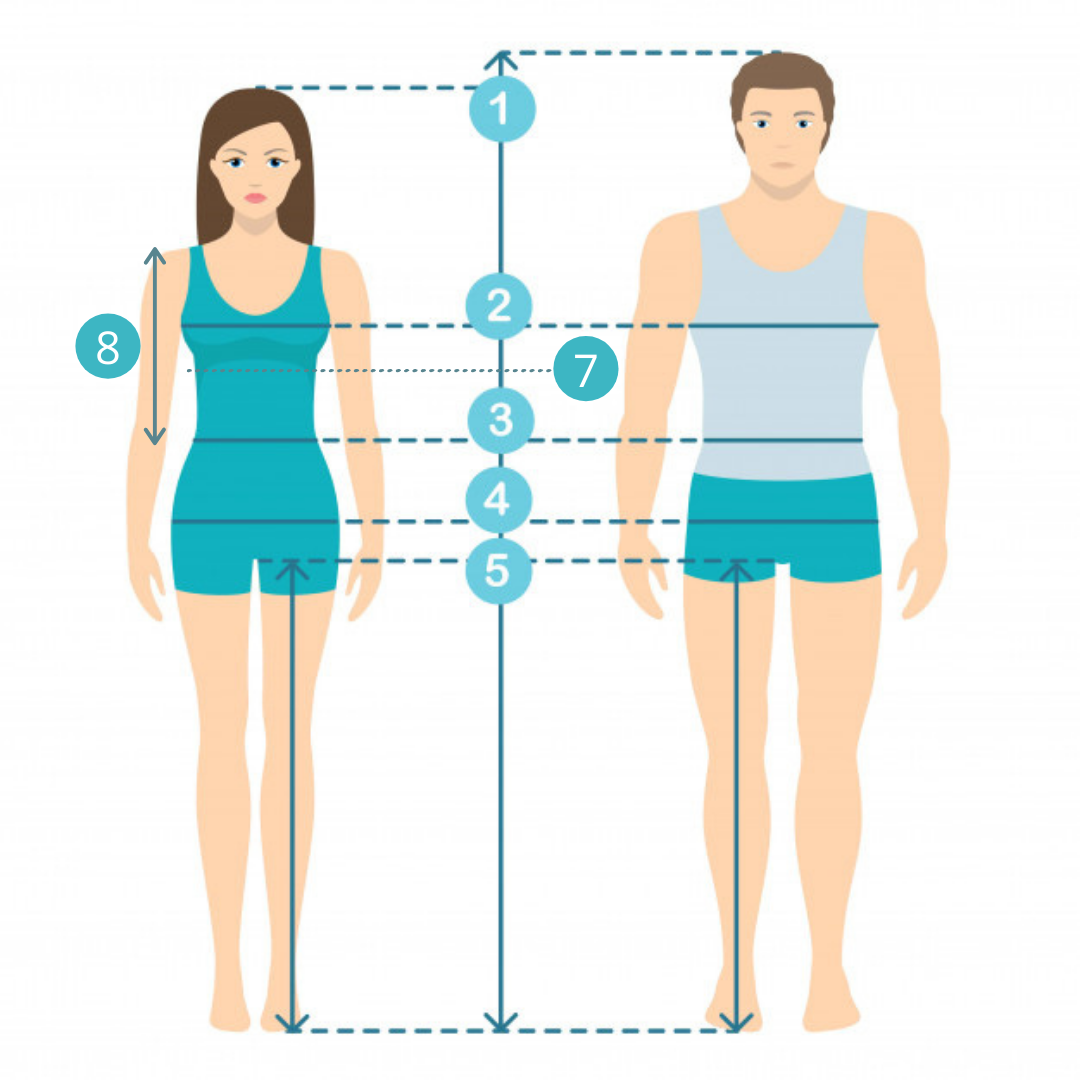 For more information, you may read the guide below
How to read a Sizing Chart?
All measurements are taken in centimeters (cm). Measurements usually came in a range instead of just single figure.
The first measurement in the range is taken when product is laid flat and untouched.
The second measurement is the measurement taken when product is stretched to a comfortable fit.
To get the circumference, multiply the measurement provided in the chart by a factor of 2. For example, for size M, minimum bust measurement can fit would be 36 x 2 = 72cm and maximum would be 46 x 2 = 92cm. Which means, if your bust measurement is within 72cm - 92cm, you are most likely to be able to fit in size M. Most of our activewears are high elasticity and highly stretchable, please allow 1-3cm difference due to manual measurement.
How to find the perfect size?
Another way to identify the size that suit you the best, we'd recommend you to choose a size with an average circumference that closer to your measurement. In order to derive the average circumference of particular size, you just need to sum up the two figures from the given range.
For example,
Size S: Fit for bust measured within the range of 68cm - 88cm; with average of 78cm (34cm + 44cm).
Size M: Fit for bust measured within the range of 72cm - 92cm ; with average of 82cm.
If your bust measurement is 85cm, technically you will be able to fit for both size S and M, but we'd recommend you getting size M for the best and comfortable fit.
Although most of our activewears are highly stretchable with elastic recovery to provide sufficient fit, the ability of stretch between each fabric might vary. The measurement range in size chart can help you to identify the stretch ability of particular activewear, most of the activewears can fit up to a range of 8cm, highly stretchable ones might fit to a range up to 15cm.
Still unsure? Reach out to us!
If you're still confused with the sizing, drop us a message for size recommendation! You can either drop us a msg from our contact us page, or you may choose to drop your inquiry in messenger (bottom right corner). We will answer your enquiry as soon as possible.
Do provide us your measurements when seeking for size recommendation.
Happy Shopping!